TURN INSPIRATION INTO CUSTOMERS. CREATE BEAUTIFUL ITINERARIES ON THE GO AND EXPAND YOUR RANGE OF SERVICES.
LET END-USERS BE IN CONTROL WITH CUSTOMIZABLE ITINERARIES. LET THEM BUILD THEIR DREAM TRIP. EVERYTHING BOOKABLE IN ONE-CLICK.
WITH OUR INTEGRATED WHITELABEL PLANNER THE BOOKING PROCESS IS FULLY AUTOMATED. NO EXTRA HUMAN RESOURCED NEEDED.
BUILD TRIPS
OUR WHITELABEL TRAVEL PLANNER IS INTEGRATED IN OUR B2B CLIENTS WEBSITE. A B2B2C SOLUTION TO SELL TRIPS RIGHT AWAY, PLUG&PLAY. CUSTOM BUILD ITINERARIES WITH THE POSSIBILITY FOR THE END-USER TO CHANGE, THE WAY THEY WANT. EVERYTHING IS POSSIBLE!
ONE HUB WITH NUMEROUS SYSTEMS
PLUG&PLAY; INTEGRATED IN YOUR WEBSITE/APP
FULLY AUTOMATED BOOKING PROCESS
WORLDWIDE TRAVEL
ONE-STOP SHOP
MULTI-DESTINATION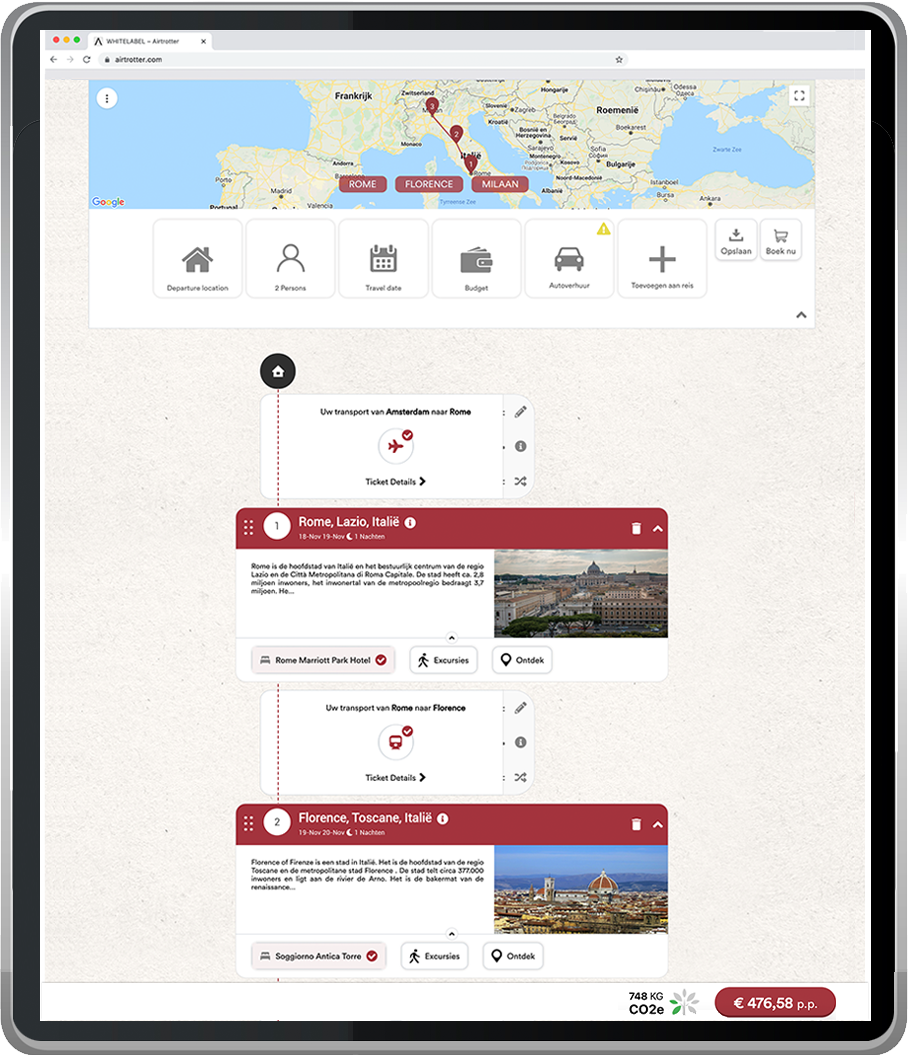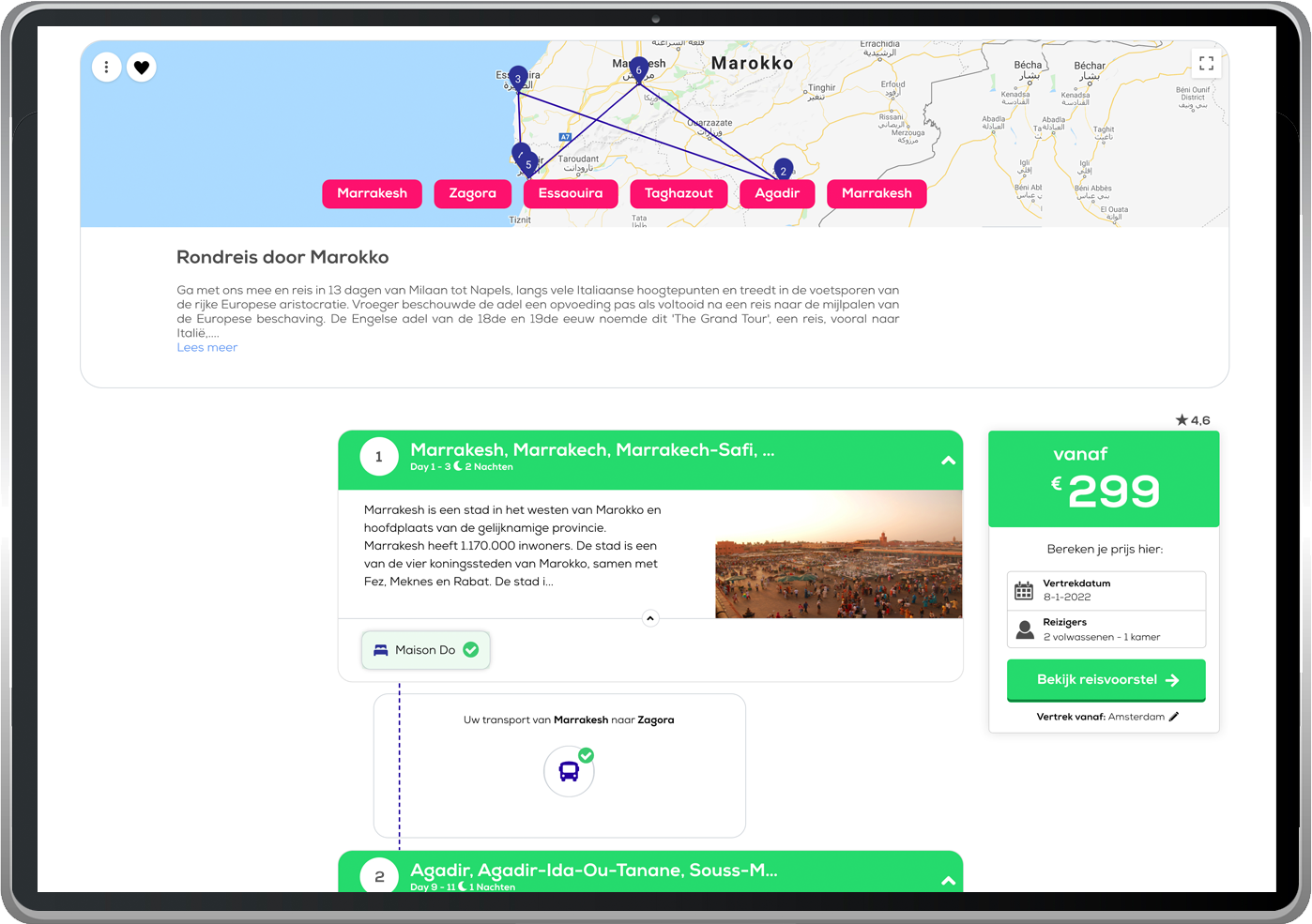 PREMADES
CREATE PREMADE PACKAGE DEALS WITHIN SECONDS. EXPAND YOUR ASSORTMENT, USE YOUR EXPERTISE AND BUILD PERFECT ROUTES. PERFECT ROUTES THAT CUSTOMER CAN STILL CUSTOMIZE AS THEY WANT.
INSPIRATIONAL PREMADE TRIPS
NO CONTRACTS NEEDED; BUILD&GO.
REAL-TIME PRICING/AVAILABILITY
MULTI-LANGUAGE (INTERNATIONAL MARKETS)
NOMAD TECHNOLOGY INCLUDED
CUSTOMIZABLE ITINERARIES
WORLDWIDE TRAVEL
WAYFARER WIZARD
WITH OUR WAYFARER WORLDWIDE WIZARD (WWW) YOUR END-CUSTOMER IS ABLE TO BUILD THEIR DREAM TRIP FROM SCRATCH. THE WAY THEY WANT! A SIMPLE-TO-USE INTERFACE WITH PREDEFINED STEPS TO CREATE DREAM ITINERARY INCLUDING OUR ONE-CLICK BOOKING TECHNOLOGY.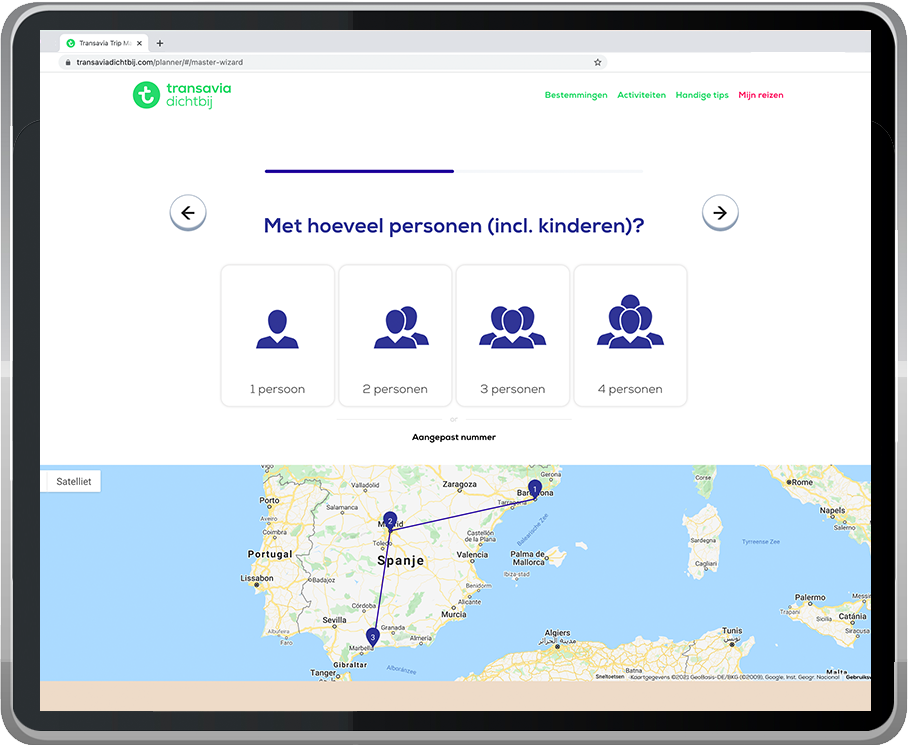 A SMALL SELECTION OF OUR AMAZING CLIENTS.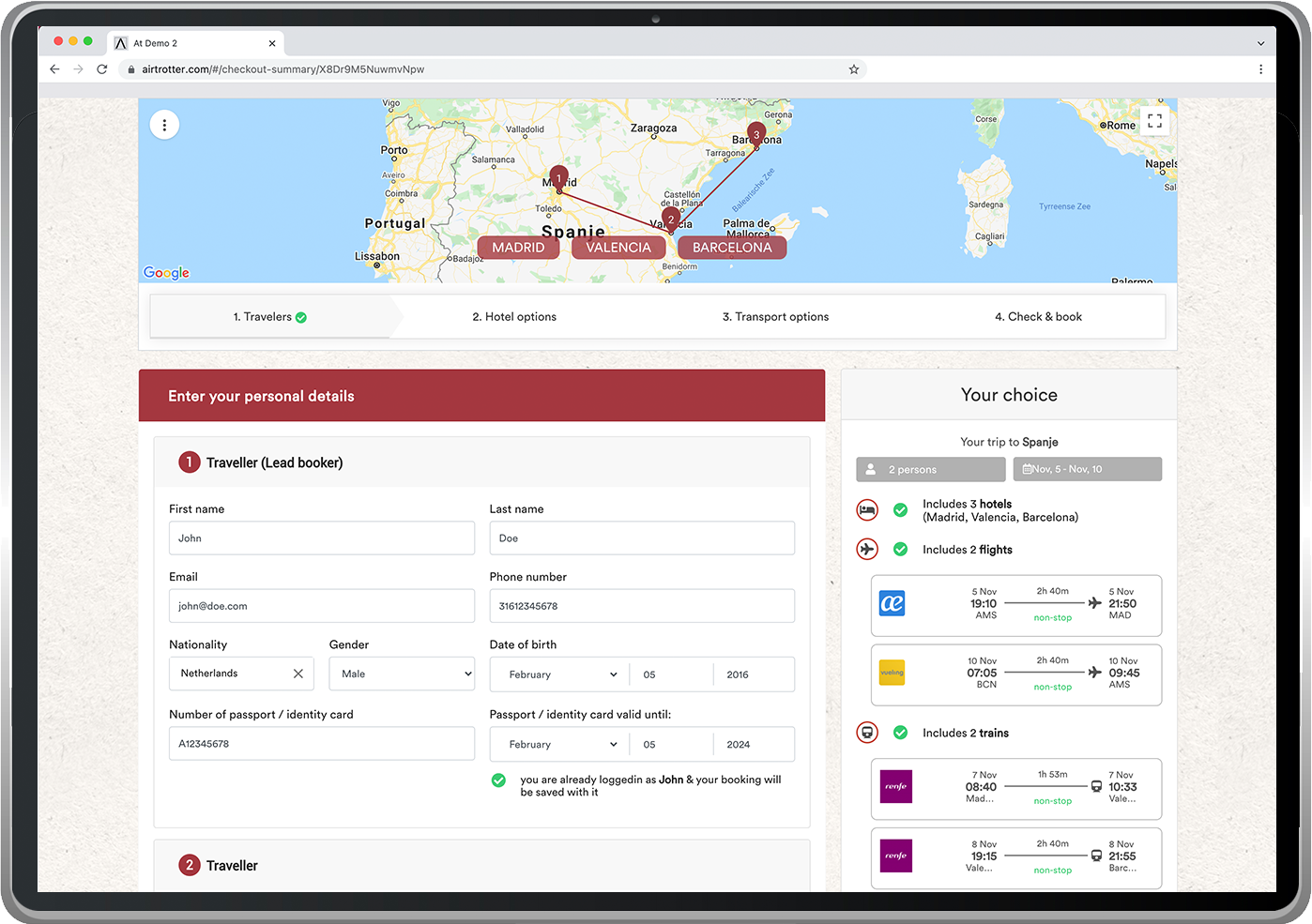 ONE-CLICK BOOKING
WITH OUR LATEST TECHNIQUE, COMPLETE DYNAMIC ITINERARIES ARE BOOKABLE IN ONE-CLICK. LET END-USERS BOOK WITH A SIMPLE ONE-CLICK WIZARD, EVERYTHING AUTOMATED WITH ONLY ONE CONFIRMATION.
ONE BOOKING, FULLY AUTOMATED
ONE BROCHURE, IN YOUR CORPORATE IDENTITY
ONE PAYMENT, EVERYTHING ELSE HANDLED AUTOMATICALLY
OPTIONAL: WITH OUR SERVICECENTER WE HANDLE FULFILMENT (MORE INFO)
NOMAD
OUR NOMAD FEATURE LET END-USERS SEE PRICING DIRECTLY ON AN EASY TO USE CALENDAR… FOR THEIR COMPLETE ITINERARY. REAL-TIME PRICING FOR EACH DAY OF THE MONTH. THE NOMAD FEATURE IS AVAILABLE FOR PREMADES AND NEWLY CREATED TRAVEL PLANS.
ALSO AVAILABLE AS WIDGET, THIS WAY YOU ARE IN CHARGE OF A BEAUTIFUL TRAVEL PLAN > WE SHOW REAL-TIME PRICES > BOOKABLE IN ONE-CLICK.. FULLY AUTOMATED!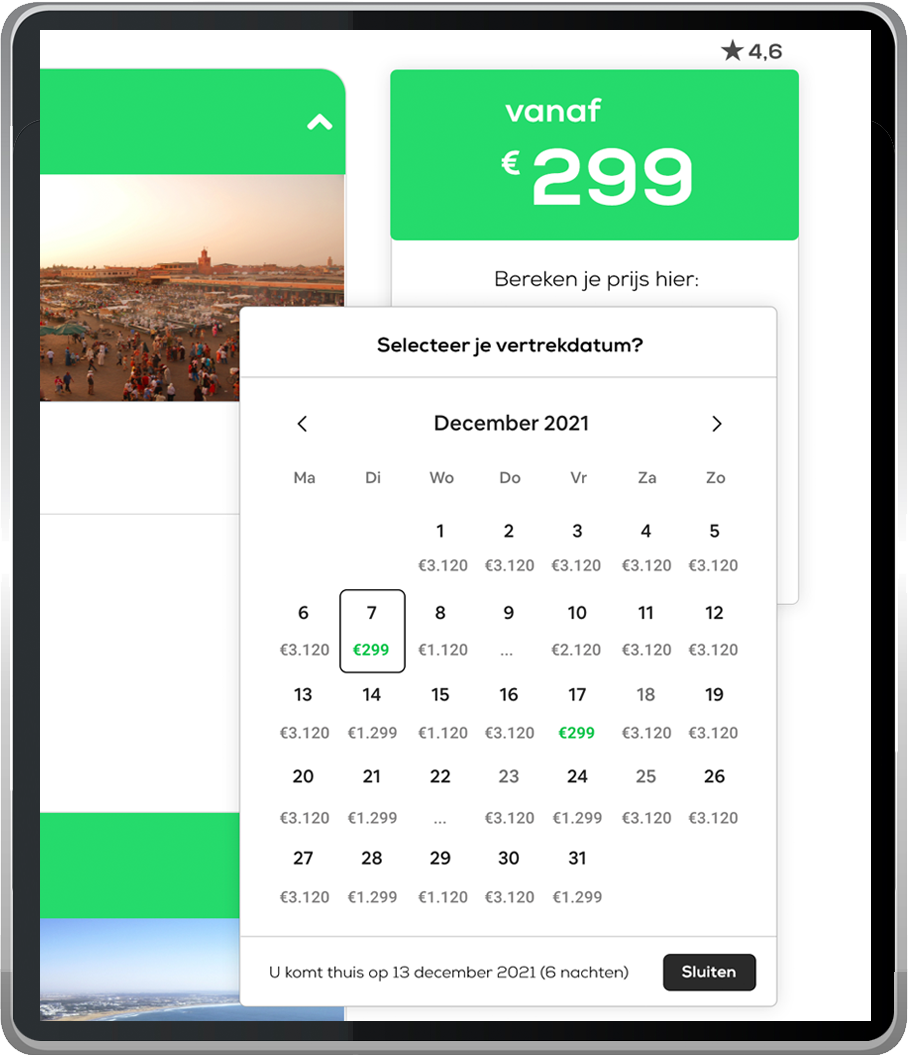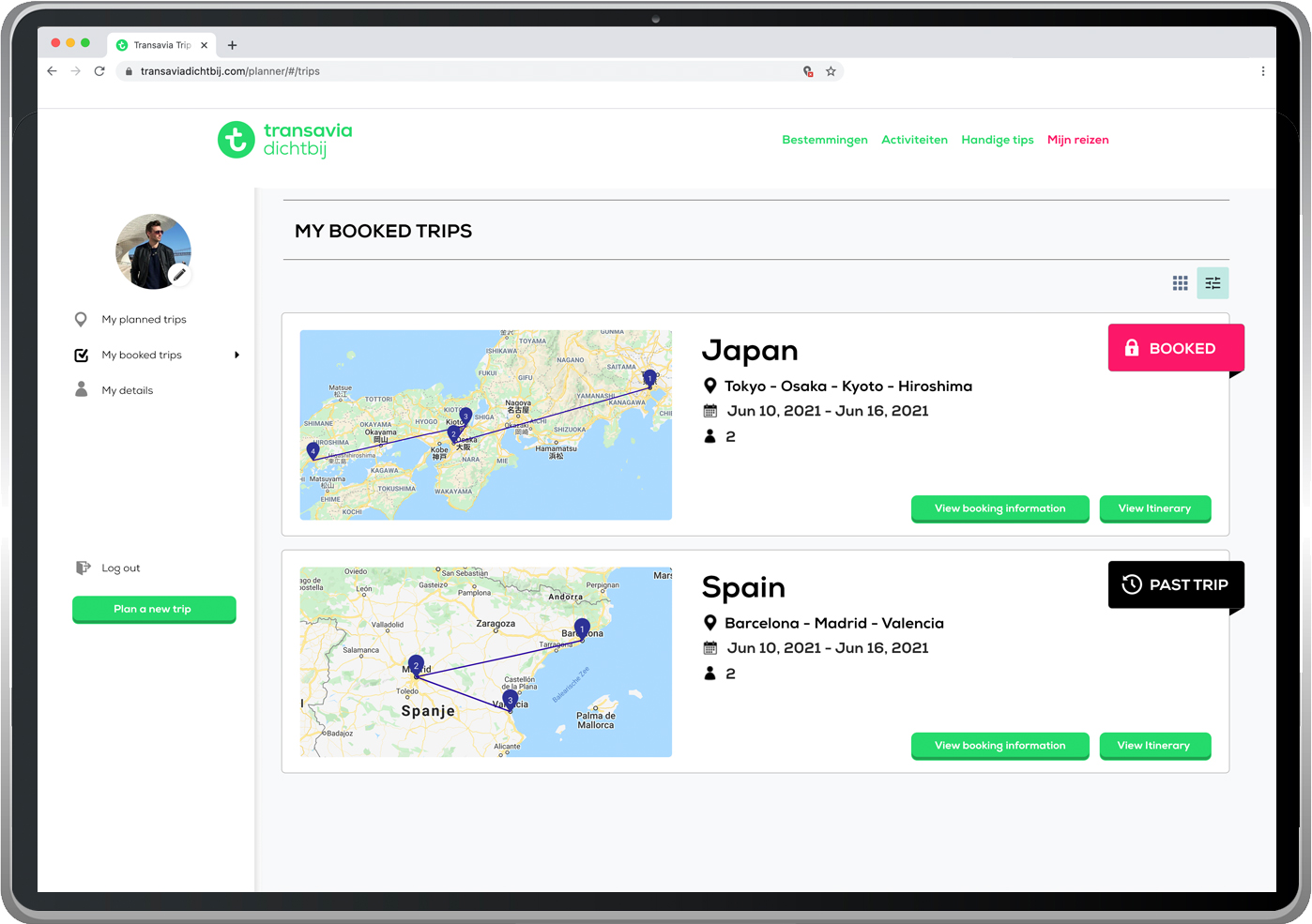 USER PORTAL
LET USERS PLAN, CHANGE AND BOOK TRAVEL PLANS ON-THE-GO. WHEREVER THEY WANT, WHENEVER THEY WANT. WITH THE USER PORTAL, THEY CAN LOGIN AND SEE THEIR BOOKINGS, BUILD NEW TRIPS, AND CUSTOMIZE THE WAY THEY WANT. THEIR PERSONAL AND SOCIAL HUB.
LOGIN BY EMAIL, FACEBOOK, GOOGLE
KEEP TRACK OF BOOKINGS
SAVE FAVORITES PREMADES
SAVE PERSONAL TRAVEL PLANS
CUSTOMIZE SAVED TRAVEL PLANS
SAVE PERSONAL INFO
DASHBOARD
OUR DASHBOARD IS AN EASY-TO-USE TOOL WHERE OUR B2B CLIENT CAN CUSTOMIZE EVERYTHING THE WAY THEY WANT. COLORS, CONTENT, TEXTS AND PHOTOS, MARGINS, STATISTICS, AND MORE. YOU CAN EVEN SELECT WHICH HOTELS/EXCURSIONS/SIGHTS ARE PREFERRED AND SHOULD ALWAYS BE ON TOP OF THE LIST. YOUR WHITELABEL CLIENT, YOUR RULES!
CUSTOMIZE EVERYTHING;
TEXTS, PHOTOS, COLORS, THEMES, WIDGETS, PREFERRED HOTELS, EXCURSIONS, SIGHTS, ETC.
SEE STATISTICS
SEE REAL-TIME BOOKINGS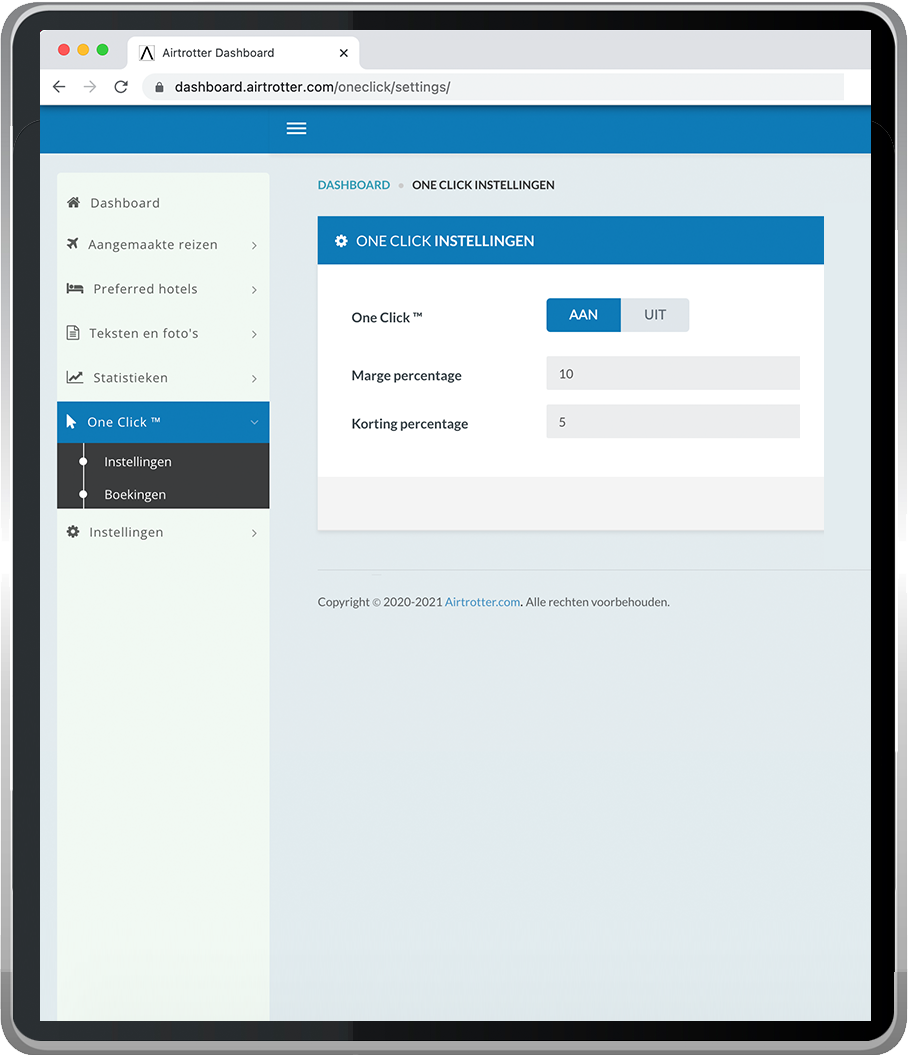 SOLUTIONS FOR EVERYONE
WE BOOST YOUR COMPANY RESULTS.