WIDGETS
FULLY INTEGRATED PLUG&PLAY
OUR WIDGETS CAN BE USED FOR EVERY ASPECT WITHIN YOUR CUSTOMER JOURNEY. ENRICH YOUR CONTENT WITH SIGHTS, EXCURSIONS, ROUTES, FLIGHT TICKETS AND MORE…
USE OUR EASY-TO-USE WIDGETS TO CROSS-SELL HOTELS, TICKETS, EXCURSIONS, ACTIVITIES AND MORE. WE PROVIDE THE TOOLS FOR YOUR END-USERS CONVENIENCE.
OUR WIDGETS ARE EASY-TO-USE PLUG&PLAY. FULLY CUSTOMIZED IN YOUR CORPORATE IDENTITY. ONE LINE CODE TO BE PLACED IN YOUR WEBSITE OR APP. START TO ENRICH YOUR CONTENT TODAY!
WIDGETS
OUR WIDGETS ARE AN EASY-TO-USE TOOL TO BE PLACED WHEREVER YOU WANT IN YOUR CUSTOMER JOURNEY. A ONE-LINE CODE, FULLY INTEGRATED AND BLENDING INTO YOUR WEBSITE/APP. WITH YOUR BRANDING AND CORPORATE IDENTITY.
WE PROVIDE DIFFERENT PLUG&PLAY WIDGETS, ALMOST EVERY MODULE WE HAVE IN OUR WHITELABEL TRAVEL PLANNER IS AVAILABLE AS A STAND-ALONE WIDGET.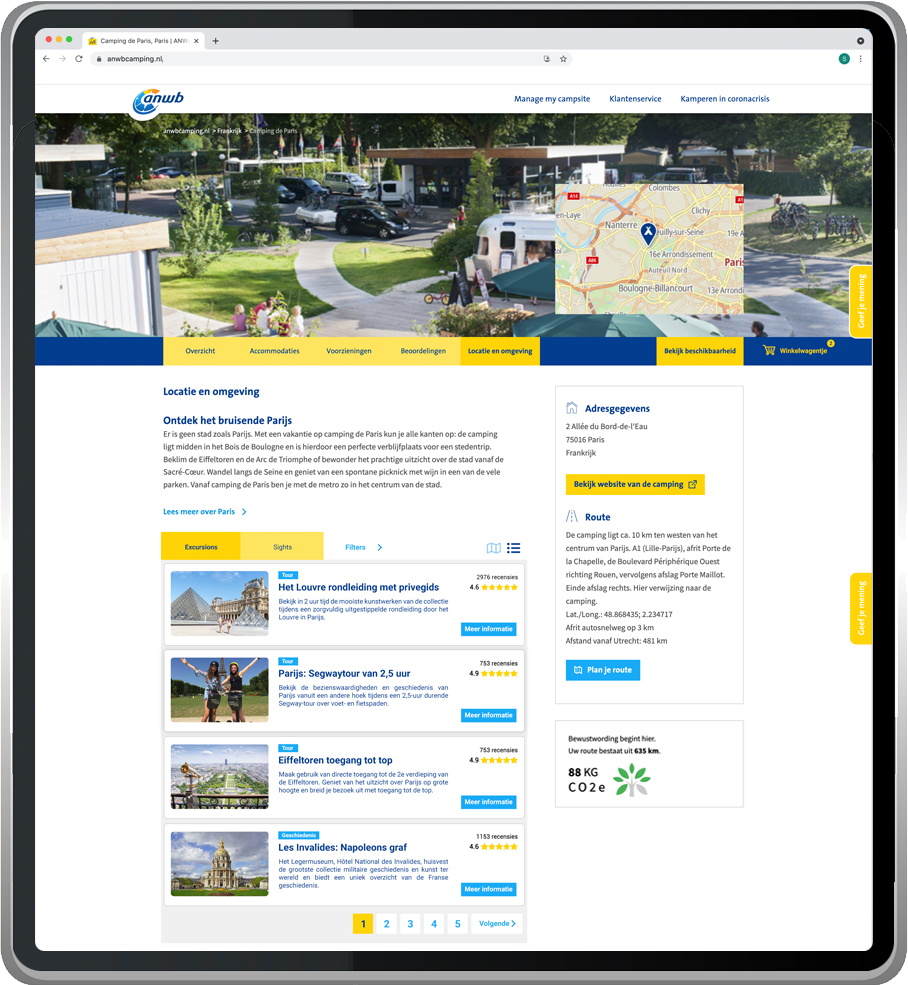 LIVE PREVIEW
AS AN EXAMPLE OUR CO2 CALCULATOR WIDGET. THE WIDGET CALCULATES THE CO2 EMISSIONS FROM POINT A TO POINT B. IN THIS SPECIFIC CASE, POINT B HAS ITS COORDINATES TO A CAMPSITE IN PARIS. POINT A CAN BE ENTERED BY THE USER OR CAN BE STATIC.
THE USER CAN CHANGE BETWEEN TRANSPORTATIONS TO SEE THE DIFFERENT EMISSIONS. ALSO ON THE FLIP-SIDE THE ROUTE HOW TO DRIVE.
ONLY ONE-LINE CODE. PLUG&PLAY.
A SMALL SELECTION OF OUR AMAZING CLIENTS.
SOLUTIONS FOR EVERYONE
WE BOOST YOUR COMPANY RESULTS.